How do I activate an auto top-up?
If you want your top-up to be resent automatically you can activate our auto top-up feature, you just need to select your desired frequency: 7, 14, 28 or 30 days.
There is no cost associate to the auto top-up activation and you can cancel it at any time you like.
If you want to cancel your auto top-up activation, you can do it yourself by following the steps on how to do it clicking in this link here or you can contact our Customer Care Live Chat and we will do it for you.
For now, we will be only accepting Visa and MasterCard as a payment method options.
The auto top-up option is only available in some countries and operators (please, find more information by clicking here).
In order to activate an auto top-up, please follow the next steps:
1. Log in to your Ding account

2. Go to send a top-up as you normally would (select the country, phone number and amount)

3. After selecting the amount, you will be redirected to the Summary where you will find the Schedule button: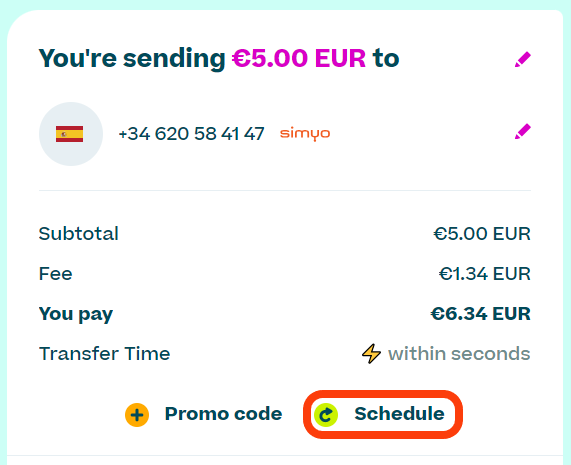 4. Select the top-up frequency:

5. Then, fill up the form with your payment method details and click on the "Pay" button.
6. Once you clicked "Pay", you will see an order success screen and you will also receive a confirmation SMS or email (depending on which way you registered your account with us) with your top-up details and the frequency of your auto top-up activation.