What is Jollibee?
Jollibee is the largest fast-food chain brand in the Philippines, operating a network of more than 1,500 stores in 17 countries. You can review their menu here.

Where can I redeem the eGift Code?
The Jollibee eGift code is only redeemable in the Philippines. However, it cannot be used in the following locations: 
- Rockwell
- North Harbor
- Bagong Barrio
To check all the available Jollibee branches, you can visit this link. 
How can I buy a Jollibee gift card?
1. Go to the Jollibee Gift card section. 
2. Select the amount you want to send.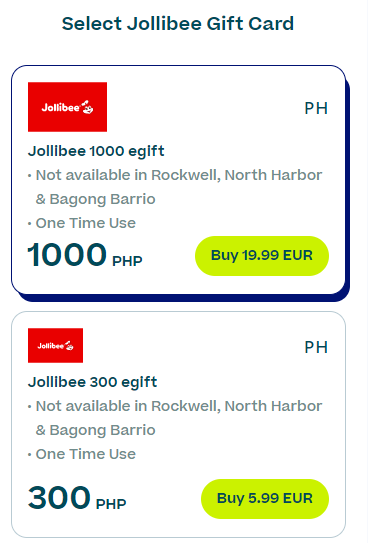 3. Choose your payment method and follow the checkout process.
4. Share the eGift code and the instructions with the person in Phillippines and they will be able to redeem it on the Jollibee store. 
How can the code be redeemed?
In order to use the gift card, you will need to show the eGift code at the store. If you wish to offer the gift card to someone, please make sure you share the eGift code with them so they can redeem it at the store.
Please note that in order to redeem it successfully, the eGift code must be entered with the hyphen '-' (for example: ABCD-1234).
Additionally, the eGift can only be used one time. If the total value is not used up, the rest cannot be used at a different time or returned as cash. 
For more information about the Jollibee Gift card, you can visit this link with the Terms and Conditions.